Overview
Allure of the Seas is the newest addition to the Royal Caribbean fleet, and is also the sister ship to Oasis of the Seas, making them the largest cruise ships in the world. On board there is a huge choice of different entertainment venues, as well as bars and lounges, an assortment of dining venues, and fantastic sports and leisure facilities. Children are well catered for too, with extensive facilities and activities to keep them occupied.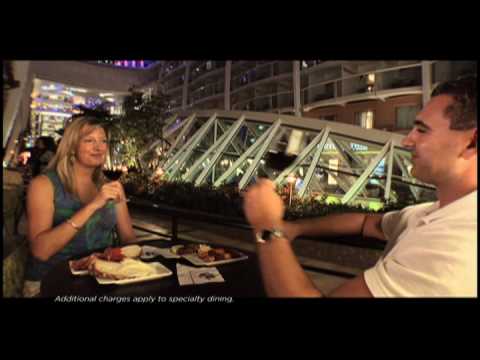 Ship Fast Facts
| | |
| --- | --- |
| Ship Class: | Oasis Class |
| Ship size: | Large Resort Ship |
| Gross tonnage: | 225,282 |
| Aimed at: | Families and couples |
| Length: | 362m (1,187ft) |
| Beam (width): | 66m (215ft) |
| Cabins: | 2,706 |
| Passengers: | 5,400 double occupancy (6,318 maximum occupancy) |
| Crew: | 2,384 |
Entertainment
With so much entertainment available on board, you are sure to find something suit your every mood. The Boardwalk neighbourhood is lively and vibrant, with several dining venues including Mexican-themed restaurant Rita's Cantina. The Boardwalk is also home to the amazing Aquatheatre, which during the day is used for swimming and scuba diving lessons, then transforms at night for the spectacular acrobatics and high dive shows.
For a little more peace and quiet head to Central Park. This leafy neighbourhood has over 1,200 living plants and trees as well as several restaurants and bars, so it's a great place to while away an hour or two with a cold drink and a tasty snack. Entertainment Place really comes to life in the evening and features Casino Royale, Jazz on 4 music lounge and Comedy Live club, as well as nightclub Blaze which stays open until the early hours.
Health and Fitness
The Vitality Fitness Centre has one of the largest gyms at sea and features all the very latest fitness equipment to help you stay in shape, plus weights machines and a free weights area. Up on deck you can make use of the full-size basketball court, or take part in a round of golf on the miniature golf course. Overlooking the back of the ship you can try your hand at surfing on one of the Flowrider surf simulators, or take to the skies on the zip-line that will see you flying high over the Boardwalk.
Alternatively, you could spend several hours relaxing in the Vitality at Sea Spa instead. Spread over two levels, there are several treatment rooms offering a range of traditional and modern-day therapies, plus a thermal suite with saunas, steam rooms and heated ceramic loungers. There is also the adults-only Solarium, which is a peaceful area away from the main pools and has sun loungers, private cabanas, a freshwater pool and a bar.
Trivia
Although Allure of the Seas is the sister ship of Oasis of the Seas and was built to be identical, she is actually slightly longer by an extra 2 inches. This means that Allure of the Seas is officially the largest cruise ship in the world!
Children's Facilities
The fantastic Adventure Ocean youth programme has dedicated clubs available for children aged 6 months to 17 years of age. All of the activities are supervised by fully trained youth workers and they are specifically tailored to suit a particular age-group. Allure of the Seas has several new features, including a science lab, an art workshop and a children's theatre, where they can learn about stage production and put on their own shows.
Teenagers have their own separate area which has a disco room with a DJ and soft drinks bar, as well as space to hang out with their friends listening to music, playing video games and watching movies. On the main pool deck there is the H2O Zone, which is a family water park with sprinklers, water cannons and fountains, plus a splash pool and children's pool.
Allure of the Seas is also the first ship to introduce the DreamWorks characters onboard. Throughout the cruise children can enjoy watching their favourite characters in parades on the Royal Promenade and the Boardwalk, meet and greet them during special meal times, and watch superb ice and water shows. You can also watch some of the fantastic films in the 3D cinema within the main theatre, or on the interactive TV's within your cabin.
Facilities
Dining

19 restaurants - Italian - International fine dining - Seafood - American - Pizzeria - Buffet

Entertainment

20 bars including - Schooners Bar - Rising Tide Bar - Viking Crown Lounge - Trellis Bar Theatre Nightclubs Show Lounges Aquatheatre

Relaxation

Vitality at Sea Spa Adults-only Solarium Beauty salon 10 Whirlpools 6 Swimming pools

Fitness

Vitality Fitness Centre Gym Sports courts Jogging track Flowrider surf machines Rock climbing walls Zip line Mini golf course

Other

Ice-skating rink Children's area Video arcade Karaoke club Carousel Casino Library Duty-free shops
Main Dining
Adagio Dining Room - Fixed Seating Dining
Two levels of the Adagio Dining Room are used for fixed seating dining with waiter service, and are open for breakfast, lunch and dinner. The restaurant usually opens for breakfast between 7.30am and 9.30am, and for lunch between midday and 2pm. In the evening, dinner is served over two sittings at 6pm and 8.30pm, and you will have the same table reserved for each night of the cruise.
Adagio Dining Room - My Time Dining
One level of the Adagio Dining Room offers my time dining with waiter service for breakfast, lunch and dinner. Breakfast is usually available between 7.30 and 9.30am, whilst the restaurant usually opens for lunch between midday and 2pm. In the evening dinner is available between 6pm and 9.30pm, so you simply need to arrive at the restaurant at your chosen time and you will be seated. If you want to guarantee your table at a specific time then it is best to speak to the maitre d' in advance, who will book your table for you so that you never have to wait for a table to be ready. You can dine at a different time each night if you want to, and you can choose whether you sit with other people on your table.
Signature Dining
150 Central Park - Speciality Fine Dining
This Manhattan-themed restaurant offers some of the very best dining at sea, with a trendy yet intimate atmosphere. You will find a variety of different cuisine available including fish, steak, seafood and duck, as well as a wonderful range of delicious desserts. There is a cover charge to dine here of approx $35 per person and a reservation will need to be made in advance. The restaurant also offers a tasting menu of 6-8 courses with wine pairing at an extra cost.
Chops Grille - Speciality Steak Restaurant
Chops Grille is one of Royal Caribbean's signature restaurants, and serves a variety of premium cut steaks such as Filet Mignon, as well as other grilled meat, fish and seafood. The restaurant is open for dinner and it has a cover charge of approx $25 per person. A reservation will need to be made in advance to dine here as it is a speciality restaurant.
Rita's Cantina - Mexican Restaurant
Rita's Cantina is a fun and casual dining venue found in the lively Boardwalk neighbourhood. It has indoor and outdoor dining areas, and serves a great choice of Mexican cuisine including tacos, fajitas and tortilla chips. The restaurant also has one of the widest choices of margaritas at sea, and during the evening there is live guitar music and dancing. There is a cover charge to dine here of approx $7.95 per person and it is advisable to make a reservation in advance.
Samba Grill - Brazilian-style Churrasco Grill
The Samba Grill is brand new to Allure of the Seas and is based around the increasingly popular Brazilian steakhouses found on land. It is located in the Solarium so it is exclusively just for adults. The restaurant features a huge variety of grilled meat, seafood and chicken which are all served directly at your table. There is a cover charge of approx $25 to eat here and a reservation will need to be made in advance.
Giovanni's Table - Speciality Italian Restaurant
Giovanni's Table can be found in the Central Park neighbourhood, and it offers indoor and outdoor dining with a distinctive Italian atmosphere. Many of the dishes available are classic Italian favourites with a modern-day twist, including ravioli, lasagne and antipasti, as well as several meat, fish and seafood dishes. The restaurant is available for lunch and dinner, and there is a cover charge of approx $10 per person for lunch and $15 per person for dinner. It is advisable to make a reservation in advance to dine here as it is a speciality restaurant.
Johnny Rockets - 50's-style American Diner
Johnny Rockets is a fun, casual restaurant themed around traditional 50's diners, with booths, bar stools and jukeboxes. You will find some of the best burgers and milkshakes at sea here, and the waiters also double as your entertainers, as they frequently get up and dance when their favourite songs come on. The basic cover charge to dine here is approx $4.95 per person, and although you don't need to make a reservation it is a good idea to do so as you might be in for a long wait otherwise.
Windjammer Marketplace - Self-service buffet
The Windjammer is open throughout the day for those who prefer a more casual, relaxed dining experience. It is a buffet restaurant so there are no set dining times, meaning you can come and go as you please. It is open for breakfast, lunch and dinner, and also offers a variety of morning, afternoon and evening snacks.
Sorrento's - Pizzeria
Sorrento's Pizzeria can be found on the Royal Promenade and it is a must-try for pizza lovers. It features a great choice of New York-style pizza, most of which are made-to-order, as well as garlic bread and other delicious treats. It is open for much of the day until late in the evening so it is a good place for a late night snack.
Izumi Asian Cuisine - Asian-themed Restaurant
Izumi is a really popular restaurant serving a fantastic variety of Asian cuisine. There is no shortage of different dishes to choose from on the a la carte menu, including sushi, sashimi, sukiyaki and Hot Rock plates. Opening times do vary but generally the restaurant is available for lunch and dinner.
Cafe Promenade - Casual cafe
Cafe Promenade located close to Sorrento's on the Royal Promenade and it is a great place to grab a morning cup of coffee or while away an hour or two in the afternoon. It is open throughout the day and serves pastries, sandwiches and snacks, as well as fruit smoothies, soft drinks and speciality tea and coffee.
Solarium Bistro - Healthy casual cafe
The Solarium Bistro can be found within the adults-only Solarium and it offers a healthy alternative for breakfast and lunch. As well as low-fat options such as salad and soup, there are also vegetarian and gluten-free meals available, and many dishes can be made to order to suit your particular tastes or dietary requirements.
Park Cafe - Casual cafe
The Park Cafe can be found in the Central Park neighbourhood and it is a great alternative to the other dining options on board. It is open throughout the day with indoor and outdoor dining, and has a wide variety of food available including paninis, salads, sandwiches, soup and pastries.
Wipeout Cafe - Casual outdoor cafe
The Wipeout Cafe can be found up on deck close to the Flowrider surf machines. It is open for much of the day and is a great place to grab lunch or a snack without having to venture inside. There is a lot to choose from including burgers, soup, pizza, salads and sandwiches, and you will also find several soft drinks, tea and coffee available too.
Boardwalk Dog House - Outdoor eatery
You will find the Boardwalk Dog House in the lively Boardwalk neighbourhood and it is the perfect place to grab a quick bite to eat. It is usually open from lunchtime until late afternoon and there are traditional hot dogs as well as brats, sausages and other meat plus a variety of delicious toppings.
The Vitality Cafe - Casual Spa cafe
The Vitality Cafe is located close to the Spa and Fitness Centre so it is great for a quick snack before a treatment or after a gym session. It opens for much of the day and offers lots of healthy options like salad, smoothies, wraps, sandwiches and fresh fruit.
The Cupcake Cupboard - Cake shop
The Cupcake Cupboard can be found on the Royal Promenade and it is designed around a traditional cake shop. As well as a huge variety of different cupcakes to choose from, you can pay a small charge to join in with cupcake classes, where you can learn the different techniques needed to decorate the cakes.
Boardwalk Donut Shop - Donut shop
The Boardwalk Donut Shop is just across from the Dog House in the bustling Boardwalk neighbourhood. Here you will find all sorts of different donuts as well as other sweet treats and snacks.
Ice Cream Parlour - Ice Cream Bar
You will find the Ice Cream Parlour next door to the Donut Shop in the Boardwalk neighbourhood. It is usually open for most of the afternoon and you can choose from lots of different treats like sundaes, shakes, cones and smoothies in a variety of flavours, all for a small charge.
Allure Of The Seas Cabins
All cabins have the following amenities as standard:
Adjustable air conditioning
Vanity area and chair
Wardrobe and storage space
Interactive satellite TV
Telephone and radio
Hairdryer and private safe
Refrigerator/mini bar
Daily shipboard newspaper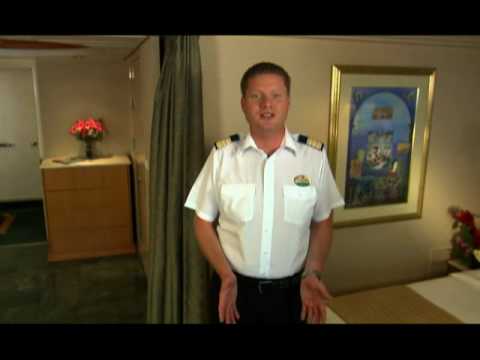 Approx. 149 - 199 square feet
Inside Guarantee Cabin
Guarantee Cabin
You will receive an Inside cabin of a minimum grade Q. The specific cabin grade and number will be automatically assigned prior to sailing.
What's included
Two lower beds that convert to a queen-size bed
En suite bathroom with shower
Sitting area with sofa
Extras
Luxury bedding
Daily cabin steward service
24 hour room service
Approx. 260 square feet
Family Inside Cabin
What's included
Two lower beds that convert to a queen-size bed
En suite bathroom with shower
Separate bedroom area with one upper and one lower berth
Sitting area with sofa that converts to a double bed
Extras
Luxury bedding
Daily cabin steward service
24 hour room service