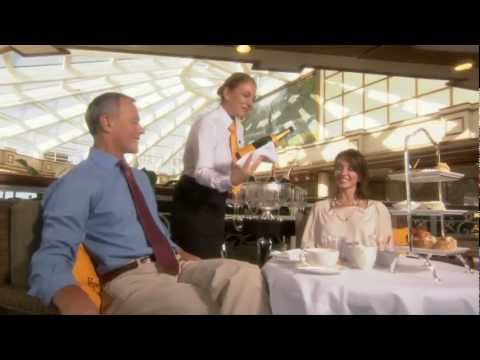 Cunard Cruise
A Cunard cruise is the epitome of luxury ocean cruising, symbolising fine dining, sumptuous surroundings and superb entertainment. The current three Queens are the largest ships ever built to bear the Cunard name, and as such they make up one of the newest, most modern fleets at sea.
Cunard are world-famous with a rich heritage that spans back over 170 years. They are well-known for their excellent White Star service and the ships have a distinctive British feel about them. Queen Mary 2, Queen Victoria and Queen Elizabeth are popular with couples, groups and single travellers who enjoy the wide range of excellent leisure, entertainment and dining facilities on board. Cunard are also a great choice for families with children of all ages who are catered for in the fantastic children's clubs.
Food & Drink
There is no shortage of different dining venues available on a Cunard ship and they all offer a wonderful range of tempting dishes. Queen Mary 2 and Queen Victoria feature the Todd English speciality restaurant, whose Mediterranean themed menu was designed by its namesake, top American chef Todd English. All of the ships feature the Britannia Restaurant where fixed seat dining is held each evening, as well as the Princess Grill and Queens Grill restaurants which are available exclusively for passengers staying in one of these suites. There are also lots of other restaurants available including cafes, self-service buffets and pool-side grills, and 24-hour room service.
Entertainment
Cunard have a whole host of activities and facilities available to keep you entertained throughout the day and evening. All three ships feature sports courts and deck games with tournaments held daily, and Queen Elizabeth has its own croquet lawn and bowls lawn. For those who want to stay active there is a fully equipped gym with fitness classes, and spas with the latest treatments and therapies to help you relax and unwind. The Cunard Connexions programme hosts a number of daily activities including dance classes, wine tasting and computer lessons, whilst Cunard Insights allows passengers to discuss a variety of topics with guest speakers and lecturers.
Other daytime activities include movie screenings, themed quizzes, and art lessons, and there are of course various swimming pools with ample sun-bathing space. In the evening, the ships transform with an array of lively bars and lounges offering live music, dancing, movie nights and full-scale theatre productions. Themed balls are held on various nights throughout the cruise, with the Black & White Ball and the Ascot Ball amongst some of the most popular ones.
Families
Cunard have some of the best facilities for children at sea with dedicated clubs on every ship that are split in to various age groups from 1 - 17 years old. The Play Zone caters for younger children and has a nursery for infants and toddlers plus other facilities including a soft play area and ball pool. Activities include arts and crafts, games, books, Lego and films. The Zone is for older children and teens who have a lounge area with plasma TV plus table football, movie nights, discos, sports tournaments and air hockey. The clubs are run by Cunard's qualified team of nannies and youth workers and are open every day from 9am until midnight.
The Grills Experience
Cunard's Grills experience started over 70 years ago when passengers were able to pay an extra fee for dining in the luxurious Verandah Grill on the original Queen Mary. Since then it has expanded and now includes Princess and Queens Grill suites, lounges and restaurants across the fleet. The Grills Suites are well known for being some of the most extravagant at sea, creating a luxurious but homely feel for all who stay in one. They range in size, with the largest being the Grand Duplexes on Queen Mary 2 which cover around 2,249 square feet across two floors - and that includes an expansive balcony!
All of the suites include special touches such as concierge service, fresh flowers, priority embarkation and in-suite dining, whilst those in Queens Grill suites are treated to additional extras such as pre-dinner canapes, priority disembarkation and personal butler service. Dining in the Grills restaurants is an unforgettable experience that is exclusively for those staying in one of the suites and allows you the chance to dine at a time convenient for you.
Cunard Cruises Ships
Queen Elizabeth

2,068 passengers, 996 crew
Queen Elizabeth (QE) joined Cunard's fleet in October 2010. Named by the Queen, she was built on the rich heritage of the original Cunard Queen Elizabeth but with a modern twist that will appeal to all.
Queen Mary 2

2,620 passengers, 1,253 crew
Queen Mary 2 (QM2) joined Cunard's fleet in 2004 and is the flagship of the fleet. As an ocean liner, she has a distinctive appearance and a sophisticated atmosphere, welcoming families and couples alike with something to offer for all ages.
Queen Victoria

2,000 passengers, 1,003 crew
Queen Victoria (QV) joined Cunard's fleet in December 2007, having been launched by HRH The Duchess of Cornwall. With luxurious screaming out throughout the ship, this Cunarder is a wealth of heritage and tradition.
Dining
Cunard pride themselves on offering a wide variety of restaurants with award-winning cuisine on all of their ships. There's certainly no shortage of restaurants to choose from with intimate gourmet, relaxed buffets, formal waiter service, and even traditional pub food. Dining throughout the day is very casual with no fixed times to eat, whilst in the evening there are two options dependant on the cabin type you have booked.
Main Dining (Fixed Seat Dining)
This option is available on all three ships for all passengers staying in Britannia cabins, and means you will dine in the main dining restaurant at a set time each night. When you book your cruise you will be asked to select the first (early) sitting at 6.30pm or the second (late) sitting at 8.30pm, as well as a preferred table size of 2, 4, 6, 8, or 10. Your table is then reserved for you at this time for the duration of your cruise.
Single Seat Dining
Single-seating dining is a flexible dining option that is available in the Britannia Club, Princess Grill and Queens Grill restaurants. It's exclusively for those who are staying in these cabin types and means there are no fixed dining times. At the time of booking you will be asked to select a preferred table size of 2, 4, 6, 8, or 10, and then once you arrive onboard you simply turn up at the restaurant anytime between 6.30pm and 9pm where you will be seated straight away.
Restaurant Menu Samples
To see a sample menu for a selection of meals in the Britannia and Grills restaurants, just click on the choice of links below:
A typical Britannia restaurant breakfast menu.
A typical Britannia restaurant dinner menu.
A typical Grills restaurant breakfast menu.
A typical Grills restaurant dinner menu.
A typical children's dinner menu.
Check out the latest deals and special offers for Cunard Cruises
We have put together a collection of the best deals together for Cunard Cruises all in one place. Search the offers below and if you still need more choice use the Cruise Search button above on the right.
*Prices per person based on two sharing
CRUISE LINES