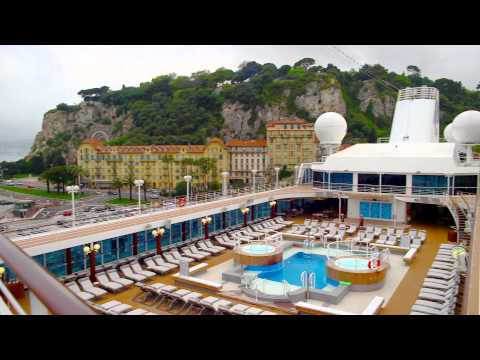 Azamara Club Cruises
Azamara Club Cruises are the perfect choice if you are looking for unique destinations, enriching experiences and the comfort and luxury of a smaller ship. Azamara Journey and Azamara Quest both sail with just under 700 passengers on board, allowing you to enjoy an intimate but sociable atmosphere and unparalleled personal service.
Azamara Club Cruises generally appeals to couples, single travellers and groups of friends who are well travelled, but are looking to experience a wider choice of ports. They enjoy the cosy 'country-club' feel, superb cuisine and sophisticated surroundings, as well as the excellent choice of leisure and entertainment facilities that can be found on board.
Food and Drink
Considering the smaller size of both ships, you will be spoilt for choice when it comes to dining. The open seating in the main dining room allows you the freedom and flexibility to eat at a time that suits you, so if you are late arriving back from an excursion one day you know you won't have to rush to dinner. The two speciality restaurants - Aqualina and Prime C - offer a culinary experience like no other. In Prime C you can sample succulent prime steak cuts and fresh seafood, whilst the cuisine in Aqualina is inspired by the flavours of the Mediterranean, featuring popular classic dishes with a modern twist. In addition to these restaurants there are several other casual eateries including a self-service buffet with an outdoor deck area, pool-side grill and salad bar and coffee shop that serves speciality drinks and snacks.
From the beginning of Spring 2013, both ships will be offering an more inclusive* experience which will include selected standard spirits, international beers and wines in all restaurants and bars plus all beverages that were previously included such as speciality tea and coffee, bottled water and soft drinks throughout the ship.
*Please note that all alcoholic beverages ordered from your cabin are not included and a charge will be made.
Entertainment
Azamara Club Cruises offer a fantastic choice of entertainment facilities and activities to keep you entertained day and night. During the day you can join in with the various trivia games and quizzes, while away a few hours in the library, unwind with a spa treatment, or just soak up the sun around the pool. You'll also be able to take part in the excellent on board enrichment programmes which are a fantastic way to learn more about a wide variety of subjects. These lectures are presented by guides and experts who give in-depth demonstrations and seminars on their subject, which include history, art, culture, nature and science. In the evening the numerous bars and lounges come to life with fantastic shows, cabaret acts, live music and dancing, with much of the entertainment themed around the destinations you are visiting.
As part of the new revitalisation programme, on both ships from Spring 2013 onwards you will also be able to experience an AzAmazing Evening; a complimentary event which is offered on every sailing to give you the chance to experience everything the ports of call have to offer. They could range from a night in a Monte Carlo casino to a polo match in St. Tropez, or a gala dinner at the Belfast Titanic Museum to a night at the ballet in St. Petersburg.
Destinations
Azamara Club Cruises are destination experts and pride themselves on taking you off the beaten track to unique, unusual and out-of-the-ordinary ports of call. Their small size means they can visit secluded ports and unspoilt areas that larger cruise ships can't reach, giving you the opportunity to really immerse yourself in the destinations you visit. As well as the Mediterranean and Europe, the ships journey across the globe to the Caribbean, Mexico and the Panama Canal, South America and the Amazon River, and Asia and the Far East. On board the ship you will be provided with all the tools and information you need to make the most of your time ashore, with informative port talks hosted by naturalists and guides. And when you arrive on dry-land you will find you are given plenty of time to truly explore your destination, as the itineraries include more overnight stays in port and late-night departures than any other cruise line.
Azamara Ships
Azamara Journey

694 passengers, 390 crew
Azamara Journey exudes all the charm and sophistication that you would expect to find on a smaller ship. With a distinctive 'boutique' feel and a relaxed, informal atmosphere, you can be sure to have an unforgettable cruise experience wherever you are sailing to.
Azamara Quest

694 passengers, 390 crew
Azamara Quest will take you to some of the most charming smaller ports in the world, giving you the chance to go off the beaten track and explore. You will find life on board is relaxed and informal, with sophisticated bars and lounges, and a great selection of dining venues to choose from.
Dining
Food-lovers will be in their element on board Azamara Journey and Azamara Quest. Although the ships are relatively small, the quality and quantity of food available is excellent. Enjoy classic dishes with a modern day twist in the main dining room, grab a casual bite to eat in the self-service buffet, or indulge in a sumptuous feast of culinary excellence in one of the speciality restaurants. Whatever your tastes or mood, you are sure to find a choice that suits you.


Main Dining (Open Seating)
In keeping with the relaxed, country club feel of Azamara Club Cruises, both ships have an open seating policy in the main dining room. This means you can choose when and who you dine with each day. At the time of booking you will be asked to select the Open Seating option, and you can also choose a preferred table size if you have one. Once on board, you simply arrive at the restaurant at your chosen time, where you will be seated. A selection of complimentary house wines are also include at lunch and dinner.


Speciality Dining
There are two speciality restaurants on board both Azamara Club Cruises ships, and each will leave you with an unforgettable dining experience. Whilst Aqualina is distinctly Mediterranean, Prime C is like a traditional steakhouse. Dining in these restaurants is complimentary if you are staying in one of the Club Suites, and there is no limit to the number of times you can dine there. If you are staying in a Club Balcony or below, there is a cover charge of approx $25 per person. You are guaranteed dining in either of the restaurants for two nights of your cruise, but for any additional nights you will need to make a reservation in advance.


Check out the latest deals and special offers for Azamara
We have put together a collection of the best deals together for Azamara all in one place. Search the offers below and if you still need more choice use the Cruise Search button above on the right.
Great Discounts
A great way to find the best savings on cruises on your favourite ship!


10 Night Temples, Dragons And Beaches
Azamara Azamara Quest
12th Dec 2015 (QS10I005-151212) from Singapore
Save £1406
10 Night Discover Vietnam
Azamara Azamara Quest
2nd Dec 2015 (QS10I004-151202) from Hong Kong
Save £1201
9 Night Black Sea And Greek Isles
Azamara Azamara Quest
12th Jun 2014 (QS09M015-140612) from Istanbul
Save £698
7 Night Greek Isles And Turkey
Azamara Azamara Quest
21st Jun 2014 (QS07M214-140621) from Piraeus (Athens)
Save £694
7 Night Greek Isles
Azamara Azamara Journey
5th Jul 2015 (JR07M266-150705) from Istanbul
Save £669
7 Night Crete, Adriatic And Venice
Azamara Azamara Quest
28th Jun 2014 (QS07M215-140628) from Piraeus (Athens)
Save £646
7 Night French Riviera To Rome
Azamara Azamara Quest
26th May 2014 (QS07M213-140526) from Nice
Save £589
7 Night Sicily And Malta
Azamara Azamara Journey
27th Sep 2014 (JR07M227-140927) from Rome (Civitavecchia)
Save £565
4 Night Monaco Grand Prix
Azamara Azamara Quest
22nd May 2014 (QS04M012-140522) from Nice
Save £556
8 Night Adriatic And Amalfi Coasts
Azamara Azamara Quest
12th Jul 2014 (QS08M021-140712) from Venice
Save £551
Late Deals
Our late deals are ideal for those who want to just pick up and go! They offer ultimate value for money.
9 Night Black Sea And Greek Isles
Azamara Azamara Quest
12th Jun 2014 (QS09M015-140612) from Istanbul
Save £698
7 Night Greek Isles And Turkey
Azamara Azamara Quest
21st Jun 2014 (QS07M214-140621) from Piraeus (Athens)
Save £694
7 Night Turkey And Greek Isles
Azamara Azamara Quest
8th Sep 2014 (QS07M221-140908) from Istanbul
Save £670
7 Night Crete, Adriatic And Venice
Azamara Azamara Quest
28th Jun 2014 (QS07M215-140628) from Piraeus (Athens)
Save £646
12 Night Cruising The Black Sea
Azamara Azamara Quest
20th Aug 2014 (QS12M362-140820) from Istanbul
Save £641
7 Night Cruising The Black Sea
Azamara Azamara Quest
1st Sep 2014 (QS07M220-140901) from Istanbul
Save £641
7 Night French Riviera To Rome
Azamara Azamara Quest
26th May 2014 (QS07M213-140526) from Nice
Save £589
4 Night Monaco Grand Prix
Azamara Azamara Quest
22nd May 2014 (QS04M012-140522) from Nice
Save £556
8 Night Formula 1 Grand Prix Cruise
Azamara Azamara Journey
19th May 2014 (JR08M023-140519) from Rome (Civitavecchia)
Save £555
8 Night Adriatic And Amalfi Coasts
Azamara Azamara Quest
12th Jul 2014 (QS08M021-140712) from Venice
Save £551
*Prices per person based on two sharing
CRUISE LINES